"My concerns about care.data are heightened, not allayed by the NHS England apparently relentless roll-out and focus on communications. Whilst they say it will take as long as it needs, there is doublespeak talk of Oct-Nov. pilots. It is still all about finding the right communications, not fixing flaws in core concepts."
Today at the Health Select Committee Mr. Tim Kelsey, on behalf of NHS England, said that care.data pilots will be in October/ November and in the meantime they are listening to the "constructive challenge to NHS England how to build trust in the [care.data] programme."
Here's my real experience of that listening, why it may not help and what still needs done. (And in under 4 months if in time to be of any use for the pathfinder pilots, which are only of use to the whole if done properly. )
[Part one]  care.data communications and core concepts – Ten takeaways from the Open House event.
The NHS England led Open House Day [1] on June 17th was a listening opportunity according to the draft agenda for:
"patients and the public to influence the work of NHS England at national and regional level."
Here are some of the things I learned:
1. Public Awareness
Mr.Kelsey asked the room (he was in London, other locations took part by live link) how many have:
a) heard of care (dot) data and
b) how many think they understand what it is is?
We couldn't see his room, but he said 'about half' understood it. Our room's show of hands was similar.
My reaction: One would expect everyone attending to have heard of it, the event after all was billed as in part about care.data. The level of understanding should be higher than the average in the public, since many (in Basingstoke at least) were NHS England or more involved than the average citizen.
Feedback overall was consistent with the latest MORI Ipsos poll [2] commissioned by the Joseph Rowntree Reform Trust in which the minority know it well and over 50% say they have never heard of it. That' s a long way to go to reach people, inform them adequately to meet legal Data Protection minimums and let them enact their patient choice.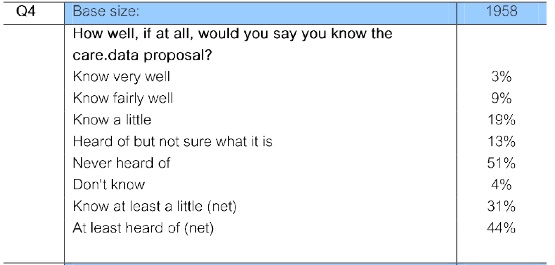 2. Communications Message & Scope

A consistent, frequent communications message is that " there are FAQs and materials, we have the answers, we just need to communicate them better."
My response: communication is failing because the core scope of what care.data is, is fluid. Without something concrete and limited, it cannot be explained neatly. As one NHS England communications member of staff said to me this week, 'we haven't got an elevator pitch.'  So it's not about the materials or the methods, it's the substance that is flawed. When you're talking about extracting, storing, sharing and selling some of our most intimate information, a vague notion of pooled experience is not good enough to trust. People want to know exactly what information, is being shared for what purpose, with whom, where. And how long will they keep it for?  NHS England simply do not have the answers to that, so, that elevator pitch? It's never going to get off the ground in a meaningful way. And anything less than the answers to those questions, doesn't meet the Fair Processing requirement of Data Protection Law.
Today at the Health Select Committee Mr.Kelsey was asked, will patients be able to trace in future where their data went? There was a rare and stunning silence. And after a benefits statement, there was still no answer given to the question. [update: Hansard now available, Q525/526]
Scope cannot be fluid and changing – the use of our personal information that we sign up to today, must stay what we agreed to tomorrow.
Data Protection requires that the minimum data is extracted so this ever increasing scope creep, but only *one* chance at opt out are at odds with each other.  What plans are in place to meet Data Protection fair processing EVERY time new things should be added and more data could be extracted? It's a legal necessity. An ongoing change communications process MUST be in place.
3. Timing
Mr. Kelsey said, on rollout timing that NHS England would take it  'as slowly as we need to.'
My response: This reiterates the 'no artificial deadlines' but appears to be doublethink in contrast with the statement confirming  'autumn 2014' extraction for Pathfinder (pilot) 100-500 practices. How will the pathfinder (pilot) locations be ready to test a communications process which as yet does not exist? How will it pilot a consent process for young people, the vulnerable, those with complex health system needs, the at risk, those outside 'the system' with GP records? A process which by its nature must be applied to any opt in or opt out choice, if others make a decision on their behalf yet from the meetings' discussion, whose informed consent appears not even begun to be considered?  Or how will solutions to past Data protection Law failings be found from thin air, when data has been breached in the past, continues to be shared in the present and there is no solution to resolving those failings for the future?
4. Language simplification
There is a tendency to oversimplify the language of the Care Act, into 'care.data will not be used for any purpose other than 'health benefit' – whereas benefit is not mentioned in the wording:

My response: Is to question why this is? Does benefit sound better than promotion perhaps? Again, words should be used accurately.
5. Users simplification of the Care.Act wording

The actual wording is 'the promotion of health'.
NHS England are similarly very keen to point out explicitly that care.data  cannot possibly be used for insurance or marketing purposes, such as junk mail.
My response:  Yet again, the wording of the Care Act does not state this explicitly. In fact, it leaves pharmaceutical marketing for example, quite open, 'for the promotion of health'. And there is no legal barrier in the Care Act per se, for firms which receive data for one purpose, such as BUPA the hospital provider in London, using it for another, such as BUPA as refining premiums. BUPA Health Dialog received individual level patient data in the past. How do those patients know what it was then used for or shared with? Perhaps Data Sharing Agreements can specify this, but the Care Act, does not.
Claims to rule out "solely commercial" can't be backed up by the wording of the Act. Will "the promotion of health" still permit uses such as marketing by pharmacies or 'healthy eating' campaigns from big food chains?  There is no obvious definition – and leaves wide interpretation open.
When Sir Manning spoke at the Health Select Committee he (rightly) said HSCIC can only restrict and determine what they do 'within the law'. The law needs to be tight if the purposes are to be tight. Loose law, loose uses.
6. Use by Data Intermediaries to continue
care.data will continue to be on offer to third party Data Intermediaries it was confirmed in the panel Q&A.
My response: some third party intermediaries in part perform outsourced data services for the NHS. But do they also use the data within their own business to inform their business intelligence markets? They sell knowledge gleaned from raw data onwards,  or have commercial re-use licenses for raw data over which we in the public have no visibility or transparency.  We cannot see within these businesses how they build their own 'Chinese walls', self-imposed restrictions to ensure security between different parts of the same umbrella organisation. Allowing third parties to re-sell data means control over its use, owners and management is lost forever. Not secure, transparent or trustworthy. I explore their uses with commercial brokers more here in a previous post. [3] Considering I was told that my personal confidential data will not be shared with third parties, in a letter signed by the Secretary of State for Health, I am most unhappy about this. I will find it hard to trust new statements of best intent, without legislation to govern them.
7. Data Lab – restricting user access
Mr. Kelsey indicated that going forward the default access to our health data will be on the premises of HSCIC, the so called "Fume cupboard" or "Data Lab." However he noted, this would not be for all, but be the 'default'.
"The default will be access it on the premises of the IC. That won't be universal for all organisations…."
My questions: Whilst a big improvement from giving away chunks of raw data via CD or to remote users, these processes need documented and publicly communicated for us to trust they will work. When will it be built and operational? How will we know who all the end users are if the same rules do not apply to all? How will those exceptions be granted? Documented? Audited? Will raw data extraction still be permitted? It's the exceptions which cause issues and in future, the processes and how they are seen to be governed must be whiter than white. For those with direct access, users of the HDIS or HES, will a transparent list of users be published? At least for now, they do not show up on extraction audits so the public cannot see what those users access or why. So, a good step, but can't stand alone.
Until this secure data lab is physically built, any data extracted cannot go into it. That won't happen by October/November I should think. So will NHS England be prepared to extract data anyway, into a setting they *know* is LESS secure and a NOT yet a safe setting?
8. Governance
We were informed, an Independent Information Governance Oversight Panel (IIGOP), chaired by Dame Fiona Caldicott, has agreed to advise the care.data Programme Board to evaluate the first phase pathfinder (pilot) stage.
My feedback: I find this interesting not least because the Information Governance Review [4] under her direction in March 2013 decided that commissioning purposes were insufficient reason to extract identifiable data. Personal confidential data should only be disclosed with consent or under statute and "while the public interest can also provide a legal basis for disclosure it should not be relied upon for routine data flows. [footnote, p.63]"
What value is Independent Governance if it has no legislative teeth and can only advise? At the Health Select Committee today, he said she would be able to offer a view, and a number of parties will be able to express views & be 'in agreement'. But I wonder who owns the ultimate final go/ no-go decision whether the pilot should progress to full roll-out?
9. Anonymous Sounds Safer
Feedback on the handout: The care.data notes need not only to be accurate but transparently truthful.
In my opinion, words are again misused words to indicate that data is anonymous. 1706204_datauses Whilst the intention of the merged CES output (GP records combined with HES files) may be that some users will see only pseudonymous data, the extracted and stored data is identifiable unless opted out. Name is held in the Personal Demographics Service. [5] This is one of the key communications messages I have taken up with HSCIC, NHS England, raised to the DH through my MP. To reassure the public by saying name is not stored, is deliberately deceptive unless it states simultaneously that it may already be held in the PDS and/or linked on demand.[6]
The Partridge Review [7] has dispensed with the notion that data is anonymous once and for all. Now it must be managed accordingly as identifiable data within Data Protection law and communications must stop misusing the anonymous concept to reassure the public.
"It's a beautiful thing, the destruction of words."                                 ( George Orwell, 1984)
10. My own experience of engagement
The most interesting part of the day for me personally however, were the discussions which were unstructured and when we were free to talk amongst ourselves. Unfortunately, that was very little. The structure (at least in Basingstoke and appeared similar on screens elsewhere) was based around tables of about 10 which included at least two NHS England staff at each.
At the end of the morning session, before lunch, as the other participants had left the table, a Communications person and I got into conversation on the differences between care.data, the Summary care Record (SCR) and where Patient Online was to fit in our understanding of which data was used for which purpose.
We discussed that since care.data is only monthly retrospective extracts, not for real-time record access, it would not be a suitable basis for Patient Online access – care.data is for secondary uses. So, we moved onto the challenges of SCR access at local level and how it will be possible to offer everyone Patient online when so many have opted out of the Summary Care Record. We began to talk stats of SCR availability and actual use in hospitals.[8]
Sadly, the table facilitator appeared to decide at that point, that our discussion needed guidance and rushed to fetch a senior member of staff from Strategic systems. And rather than engaging me in what had been a very positive, pleasant two-way conversation, with the Comms person asking me questions and our exchange of views, the Strategic Head took over the conversation with her NHSE team member, effectively restricting further discussion, even with her body positioning and language. Being informed is OK, as long as its the 'right' information?
I don't think that's what patient engagement is about. The subject needs real, hard discussion, not just managed exchange using pre-designed template cards of topics that we are told we 'should' discuss. Perhaps ignorance is strength, but in my opinion, keeping Communications staff informed only 'on message' and not of the wider facts and concerns is shortsighted and does them, and patients, a disservice, but then again:
"If you want to keep a secret, you must also hide it from yourself." (George Orwell, 1984)
For [Part two] care.data communications and core concepts – Questions, Communications and Actions : link here >>

*****
[1] The NHS England Open House recording June 17th http://www.nhsengland-openhouse.public-i.tv/core/portal/NHSopenhouse
[2] IPSOS Mori poll conducted for the Joseph Rowntree Foundation: http://www.ipsos-mori.com/Assets/Docs/Polls/jrrt-privacy-topline-nhs-2014.pdf
[3] My post on uses of our records with commercial Data Brokers – https://jenpersson.com/flagship-care-data-2-commercial-practice/
[4] The Information Governance Review 'Caldicott 2' https://www.gov.uk/government/uploads/system/uploads/attachment_data/file/192572/2900774_InfoGovernance_accv2.pdf
[5] The Personal demographics Service at HSCIC (including name) http://systems.hscic.gov.uk/demographics/pds/contents
[6] The Data Linkage Service at HSCIC http://www.hscic.gov.uk/dles
[7] The Partridge review: http://www.hscic.gov.uk/datareview
[8] Summary Care Record use statistics https://www.whatdotheyknow.com/request/scr_care_settings_with_viewing_c#incoming-446569
***
Fun fact: George Orwell's Nineteen Eighty-Four is currently number 5 in the UK Classics Fiction Amazon ranking. And 86th in fiction overall. Sales up over 5,000% in the US since the Snowden revelations, a year ago.
MORE BACKGROUND ON THE EVENT:
Within the other programmes of Patient Online and Patient Participation, care.data was a one hour session. It included the blue plasticine people short animation, a speech by Mr.Kelsey, a 15 minute table discussion on one pre-given theme from a range of four, reading aloud the summary of that discussion from each table within the room, one question per venue raised outside the room to the panel via video link in London, and their answers. Our discussion topics were brief, controlled and relatively superficial. It could have been a productive day's workshop on only that.

The Open House  took place simultaneously in four venues across England, Basingstoke, Leicester, York and London, connected through a live videolink at a number of points throughout the day. The recording in part, can be viewed here.
I attended the Basingstoke event, particularly keen to learn about national programmes such as care.data and hear about any updated plans for its rollout, to learn about patient online, and to meet the NHS England team in the South as well as other interested people like me. I hoped for some real public discussion and to hear others get their questions aired, shared and on the table for resolution.
I met one other 'only' patient and whilst I was kindly told by a further active PPG organiser, that I should never refer to myself as 'only' a patient, but you know what I mean. I've applied as a lay rep on our local CCG for an opening next year, until then, I'm learning as much as I can from others. Other attendees I met were those already more closely involved with NHS England in some way already. As NHS England staff, facilitators, representatives from Clinical Commissioning Groups, Patient Leaders and PPG leaders.