In 2005 I sat early one morning in an enormous international hotel chain's breakfast room, in Guangzhou.
Most of the men fetching two adult breakfasts from the vast buffet wore cream coloured chinos, and button down shirts. They sported standardised haircuts with hints of silver. Stylish women sat at  impeccable tables, cradling  babies in pink hats or spoon feeding small children.
On a busy downtown street, close to the Chinese embassy, the hotel was popular with American parents-to-be.
My local colleague explained to me later, that her sadness over thousands of Chinese daughters exported from a one-child policy nation in 2005 was countered by the hope that loving foreign families were found for them.
She repeated with dignity, party mantras and explanations drilled at school. She has good job, (but still she could not afford children). Too little land, too few schools, and healthcare too expensive. She sighed. Her eyes lit up as she looked at my bump and asked if I knew "girl or boy?" If it were a girl, she added, how beautiful she would be with large open eyes. We laughed about the contradictory artificial stereotypes of beauty, from East and West, each nation wanting what the other did not have.
Ten tears later in 2015, British Ministers have been drawing on China often recently, as a model for us to follow; in health, education and for the economy. Seeking something they think we do not have. Seeking to instill 'discipline, hard-working, economy-first' spin.
At the recent ResearchEd conference, Nick Gibb, [1] Minister of State at the Department for Education, talked about the BBC documentary "Are Our Kids Tough Enough" for several minutes and the positive values of the Chinese and its education system. It supposedly triggered 'a global debate' when British pupils experienced "the harsh discipline of a Chinese classroom".
The Global Times praised the  First Minister Mr. Osborne as "the first Western official in recent years who focused on business potential rather than raising a magnifying glass to the 'human rights issue" during his recent visit [2] when he put economic growth first.
Jeremy Hunt, Secretary of State for Health, was quoted at the political party conference  saying that he saw tax cut changes necessary as a cultural shift.  He suggested we should adopt the 'hardworking' character of the Chinese.
An attribute that is as artificial as it is inane.
Collective efforts over the last year or more, to project 'hard-working' as a measure of contribution to UK society into politics has become more concentrated, especially around the election. People who are not working, are undermined by statements inferring the less productive for the nation, the less value someone has as a person. Comments are repeated in a sustained drip feed, from Lord Freud's remarks a year ago that disabled workers were not worth the full wage, to Hancock's recent revelation that the decision to not apply the new minimum wage to the under 25s from 2016 "was an active policy choice."  Mr. Hunt spoke about dignity being self-earned, not dependent on richness per se, but being self-made.
"If that £16,500 is either a high proportion or entirely through the benefit system you are trapped. It matters if you are earning that yourself, because if you are earning it yourself you are independent and that is the first step towards self-respect."
This choice to value some people's work less than others and acceptance of spin, is concerning.
What values are Ministers suggesting we adopt in the relentless drive for economic growth? [3] When our Ministers ignore human rights and laud Chinese values in a bid to be seen as an accepting trading partner, I wonder at what cost to our international integrity?
Simple things we take for granted such as unimpeded internet  access are not available in China. In Chinese society, hard working is not seen as such a positive value. It is a tolerated norm, and sometimes an imposed one at that, where parents leave their child with grandparents in the countryside and visit twice a year on leave from their city-based jobs. Our Ministers' version of hardworking Chinese is idyllic spin compared with reality.
China is about to launch a scheme to measure sincerity and how each citizen compares with others in terms of compliance and dissent. Using people's social media data to determine their 'worth' is an ominous prospect.
Mark Kitto from 2012 on why you'll never be Chinese is a great read. I agree, "there are hundreds of well-rounded, wise Chinese people with a modern world view, people who could, and would willingly, help their motherland face the issues that are growing into state-shaking problems ."
Despite such institutional issues, Mr. Osborne appears to have an open door for deals with the Chinese state. Few people missed the announcements he made in China that HS2 will likely be built by Chinese investors, despite home grown opposition. Ministers and EDF have reportedly agreed on a controversial £25bn development of Hinkley Point C, nuclear plant, with most of upfront costs provided by Chinese companies, although "we are the builders." [4]
Large parts of UK utilities' infrastructure is founded on Chinese sourced spending in the UK it's hard to see who 'we' are meant to be. [5] And that infrastructure is a two-way trade. Just as Chinese money has bought many of our previously publicly owned utilities, we have sold a staggeringly long list of security related items to the Chinese state. [6]
In July 2014 the four House of Commons Select Committees: "repeated their previous Recommendation that the Government should apply significantly more cautious judgements when considering arms export licence applications for goods to authoritarian regimes which might be used for internal repression."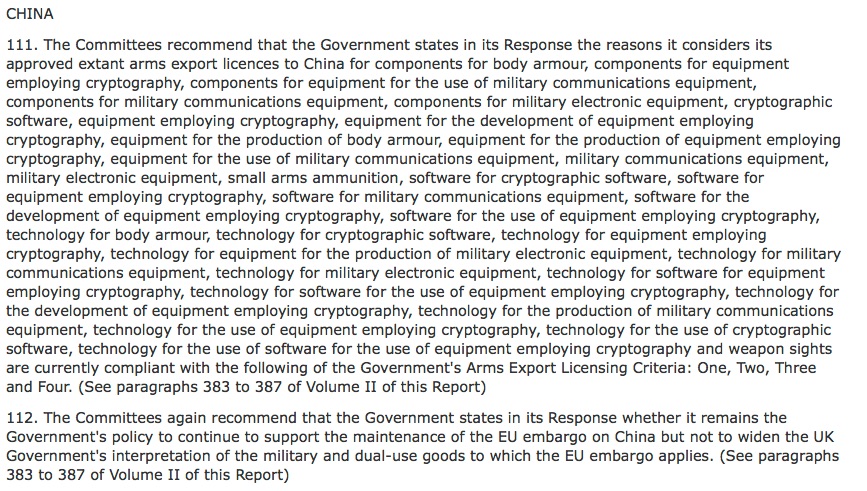 Chris Patten, former Hong Kong Governor,  criticised Osborne's lax attitude to human rights but individual and collective  criticism appear to go unheard.
This perhaps is one measure of British economic growth at all costs. Not only is Britain supplying equipment that might be used for internal repression but the Minister appears to have adopted a singularly authoritarian attitude and democratic legitimacy of the Committees has been ignored. That is concerning.
The packaging of how upcoming cuts will be presented is clear.  We will find out what "hard working families" means to the Treasury. We need to work harder, like the Chinese, and through this approach, we will earn our dignity. No doubt rebuilding Britain, on great British values. Welfare will continue to be labelled as benefits, and with it, a value judgement on economic productivity equated with human worth. Cutting welfare, will be packaged as helping those people to help themselves out of self inflicted 'bad' situations, in which they have lost their self worth or found an easy 'lifestyle choice'.
As welfare spending is reduced, its percentage spend with big service providers has risen after reforms, and private companies profit where money was once recycled in the state system. There is a glaring gap in evidence for some of these decisions taken.
What is next? If for example, universal benefits such as Universal Infant Free School Meals are cut, it will take food literally from the mouths of babes, in families who cannot afford to lose hot school dinners, living in poverty but not qualifying for welfare. The policy may be flawed because Free School Meals based on pupil premium entitlement does not cater for all who need it, but catering for none of them is not an improvement.
Ministers focus the arguments of worth and value around the individual. Doctors have been told to work harder. Schools have been told to offer more childcare to enable parents to work harder. How much harder can we really expect people to work? Is the Treasury's vision is for us all to work more to pay more taxes? It is flawed if by adopting the political aim, the vast majority of people take home little more pay and sacrifice spare time with our friends and loved ones, running our health into the ground as a result.
The Chinese have a proverb that shows a wisdom missing from Ministers' recent comments: "Time is money, and it is difficult for one to use money to get time."
I often remember the hotel breakfast room, and wonder how many mothers, in how many in cities in China miss their daughters, whom they could not afford to keep, through fear of the potential effect. How many young men live without women in their lives who would want to, but find the gender imbalance a barrier to meeting someone. How many are struggling to care for elderly parents.
Not all costs can be measured in money.
The grandmother I met on the station platform last Wednesday had looked after her grandchild for half the day and has him overnight weekdays, so that Mum can first sleep and then work a night shift stacking shelves. That's her daughter's second shift of the day. She hardly sees her son.  The husband works the shelf-stacking third shift to supplement his income as a mechanic.
That is a real British family.
Those parents can't work any harder. Their family is already at breaking point. They take no state welfare.  They don't qualify for any support.
Must we be so driven to become 'hard working families' that our children will barely know their parents? Are hungry pupils to make do as best they can at lunchtime? Are these side effects children must be prepared to pay if their parents work ever harder to earn enough to live and earn their 'dignity' as defined by the Secretary of State for health?
Dignity is surely inherent in being human. Not something you earn by what you do. At the heart of human rights is the belief that everybody should be treated equally and with dignity – no matter what their circumstances.
If we adopt the Ministers' be-like-the-Chinese mantra, and accept human dignity is something that must be earned, we should ask now what price have they put on it?
MPs must slay the dragon of spin and demand transparency of the total welfare budget and government spend with its delivery providers. There is a high public cost of further public spending cuts. In order to justify them, it is not the public who must work harder, but the Treasury, in order to deliver a transparent business case what the further sacrifices of 'hard working families' will achieve.
###
[1] ResearchEd conference, Nick Gibb, Minister of State at the Department for Education
[3] https://www.opendemocracy.net/ournhs/jen-persson/why-is-government-putting-health-watchdogs-on-leash-of-%E2%80%98promoting-economic-growth
[4] The Sun: George Osborne party conference speech with 25 mentions of builders: "We are the builders", said Mr. Osborne.
[5] The Drum: Li Ka Shing and British investment https://www.thedrum.com/opinion/2015/01/28/meet-li-ka-shing-man-o2-his-sights-has-quietly-become-one-britains-biggest
[6] Arms exports to authoritarian regimes and countries of concern worldwide The Committees http://www.publications.parliament.uk/pa/cm201415/cmselect/cmquad/608/60805.htm#a104
[image: Wassily Kandinsky ca 1911, George and the Dragon]